Get to Know Matt Hayashida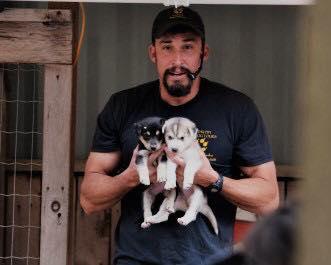 It's that time again....let's get to know our people. Today....Matthew Hayashida!
Born in Massachusetts, Matt Hayashida moved west to pursue a career in the outdoors. Achieving success as a river guide on the Snake River in Jackson Wyoming, Matt began to investigate additional recreational opportunities in the outdoors. In 1993, Matt was introduced to dog mushing while living in Wyoming; his first time on the runners he decided that he would pursue the world-famous Iditarod Sled Dog Race. Determined to compete, Matt moved to Alaska to be closer to the mentors of the sport. Matt trained alongside 4-time Iditarod Champion, Martin Buser for 3 years. Matt then gained the skills necessary to take on the "Last Great Race." Matt has mushed professionally for over 20 years. He has run the Iditarod 7 times and competed in many other mid-distance races.
Matt has been working for Alaska Icefield Expeditions and Gold Rush Sled Dog Tours since 1999. His experience in tourism and his passion for the sport of dog mushing drives him in his work. In the last few years, Matt has taken a break from competitive racing to spend more time with his family. His two daughters, Lily and Gracie, enjoy basketball and being coached by their dad. Matt would still like to realize his dream of winning the Iditarod when the children have grown.